History of the Sixth Maryland Regiment Reenactors
The 6th Maryland Regiment was established in November of 1991.
At that time many of the members had been previously associated
with the 3rd Maryland Regiment. Today, a few of our original
members are still active in the unit and through the years they have
been joined by many new members. In 2011, the 6th Maryland
Regiment celebrated a 20th Anniversary and in its establishment,
the regiment still seeks to continue a respected tradition of period
accuracy.
Welcome
The members of the 6th Maryland Regiment and Cecil
County Militia are living history re-enactors whom
seek to
portray accurately, military and early American life, through
our participation in historical military reenactments,
encampments and garrison weekends. The primary
purpose of the 6th Maryland Regiment is the ongoing
education of its members and the public as to the history
and culture of the American Revolution.
Contact:
Sixth Maryland Regiment and Cecil County Militia
1475 Augustine Herman Hwy
Elkton, Maryland 21921
Linda W. Parrish, Secretary
(410) 885-2652
Email: linda.parrish@ncs.k12.de.us
George J. Jones, Commander
Email: gjj1777@gmail.com
© Sixth Maryland Regiment 2012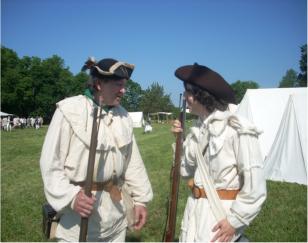 6th Maryland Regiment, Encampment,
Jerusalem Mill, Maryland, 2006
Annual Chestertown Tea Party Festival
Each year the Cecil County Militia march in the parade and re-enact in the
Tea Party event at Chestertown, Maryland. This is annual festival held
over the Memorial Day weekend. The Tea Party re-enactment is a living
history program that portrays the actual events that occured there at the
port on the Chester River during the same time that the famous "Boston
Tea" party happened in Massachusett's.
Made with Xara